jan 2016
Ripe Relocates Global Headquarters
In late November 2015 we relocated Ripe's office 9 blocks from the previous location (at Gold and 7th) to the west end of downtown. The up and coming Country Club Plaza, to be exact. The move caused quite a stir in the local press, with one publication using the dramatic headline, "BRANDING FIRM LEAVING DOWNTOWN". Read the full story here >
After spending 5 great years in the Mid-century modern landmark, Insurance Building, we decided to move to a smaller space with higher rent. "Why so?" you may ask. Well, the Country Club Plaza (CCP) is merely a short walk from the old office but a world away in progress and movement. Jay Rembe, the developer of CCP has a vision of pedestrians, cyclists, businesses and residents intermingling and forming a pivotal aspect of downtown's expansion. This is not a move away from downtown Albuquerque, but a move to expand downtown Albuquerque. Another cool thing is the BICI/Zagster bike share station at our front door, making it easy to get around without driving. The bosque, museums, Model Shine Parlor, Zendo, Marble Brewery, Fat Pipe, etc. all seem a lot closer now, thanks to BICI.
Ripe's commitment to nurturing downtown's growth and improvement is steadfast. We are heavily involved in our community; regularly donating graphic design & branding services and consultations to a healthy number of programs, projects and boards with the sole intention of improving our downtown area.
Drop by the new office anytime and say hi. We've got beer AND bananas!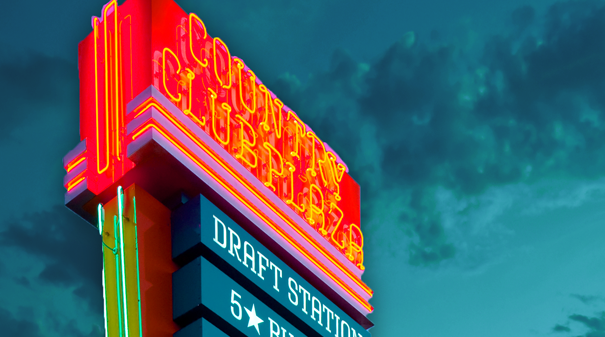 So, car stuffed with everything we owned, mountain bikes on the roof, limited funds in the bank, and a huge road map on the passenger side, we made a clean break. We drove slowly and lingered longer in the places that had good vibes, cheap motels, and good trails. We met tons of interesting people in the cities, campgrounds, and boonies where we laid our heads. During those months on the road we partied hard at night and mountain biked even harder during the day. Our bikes picked up trail dirt in every state we crossed.
A couple of months in we had an unforgettable life experience. We'd finally made it to the mountain bike mecca of Moab, UT, which lays claim to one of the most famous mountain bike trails on the planet, the Slickrock Trail. Just looking at Slickrock gives you a creeping sense of "bail, or you'll die"; it has incredibly steep climbs and descents over tacky, smooth rock, which can be unforgiving.
We arrived at the trailhead in the early morning and chanced upon a group of four young guys who had ridden the trail the day before. They were back for more, which was encouraging. After they heard about our journey across the states, one of the guys, Scott, recommended we visit his part of the country, and to seal the deal he offered us a free bike tune-up if we made it there, "I'm the mechanic at Two Wheel Drive in Albuquerque. Ask any bike rider in town, they'll tell you where we are". I had a good feeling about these guys; their warmth, humor and generosity planted the Albuquerque seed for us that grew into something remarkable.
Before we left for the main trail Scott gave us a snippet of wisdom that helped us complete the challenging ten-mile ride, leaving only a minimum of skin and blood behind. He said, "some of the climbs are so steep they look impossible, but keep pedaling. Don't think, just pedal". A few minutes later, faced with incredibly steep climbs, his words were ringing in my ears. My heart overruled my brain, and I continued to pedal even though brain was saying, "bail, or you'll die". Time after time I made it to the top. As long as I found the nerve and strength to pedal another uphill stroke, my back wheel kept complete traction. It was the most liberating and freeing experience I'd ever had on two wheels; I was defying gravity and suddenly feeling the gift of "anything is possible". Thanks, Scott! Without knowing it, Scott was one of the finest brand ambassadors a city could wish for.
A couple of weeks later we rolled into town and found a cheap run-down motel on Central to call home for the week. Needless to say, Two Wheel Drive was one of our first stops, and after receiving the warmest of welcomes we got our bikes tuned up, but, more importantly, over the next few days we tuned in to this amazing city. Sure, people were friendly, and even more refreshing was the fact that nobody asked us the East Coast assessment standard, "So what do you do?" in the first 3 minutes of conversation, but Albuquerque doesn't reveal its most precious elements right off the bat. Just like the Slickrock Trail, it's sometimes difficult to comprehend, or see a way past the obstacles, and our obstacles are the kind that many neither understand nor forgive, but the rest of us know that if we put the effort in and push upwards and onwards with an open mind and heart, the rewards are plentiful. Albuquerque has soul and beats its own tempo in unusual time signatures that throw us off now and then but when we figure out how to get back in rhythm Albuquerque has an uncanny ability to make those of us it chose feel like we truly belong, and home is where the heart is.
Collecting stories that provide a view into the emotional connection we have with Albuquerque will help us articulate the reality of its nucleus, without trying to put lipstick where it doesn't belong. This is the foundation of branding – whether for a global corporation, a small business, or a city – the process is the same, only the scale differs. True branding functions from the inside-out, not superficially (outside-in) which is just an ad campaign and often mistaken for branding. The essential key to successfully developing Albuquerque as a brand is to truly express what we are and who we are so that we appeal to those attracted by our honesty. Once that particular audience (they are everywhere) is engaged and tempted to try us out Albuquerque is guaranteed to blow minds and exceed all expectations. The closest, I think, anyone's come to expressing the soul of Albuquerque is (2012-2014) Poet Laureate, Hakim Bellamy in his brilliant tribute to what we TRULY be. We Are This City!